Days to Colorado CrossFit Open: 3
They finally posted the the Friday workouts from the CrossFit Games in California: http://live.crossfit.com/. The weekend is covered hour by hour. To see brief moments of coverage of our team and an interview of Tim you can select the hours below from the dropdown on that site. Be patient, They take a long time to load and sometimes suddenly stop playing. Might take a few tries.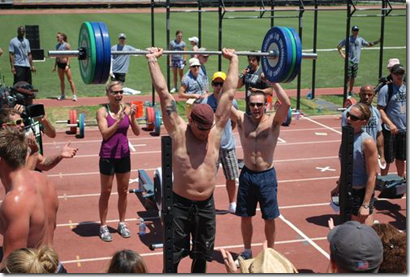 16-Jul-2010 10:00-11:00
5:12 – 1st workout explained. Tim, Sean, Rosanne, Elizabeth divide the work.
22:25 – Our heat starts
29:38 – Our only footage. A very brief shot of Tim and Elizabeth doing thrusters.
16-Jul-2010 13:00-14:00
26:12 – 2nd workout explained. Tim, Sean, Sid, Rosanne, Elizabeth, Karen.
46:30 – Our heat starts
49:25 – Judges laugh when I fall on my butt trying to do a pistol.
49:54 – Some random girl shows up everyone on pistols.
50:58 – Me on the rower. Rosanne resting. Elizabeth doing pistols.
56:08 – Elizabeth jerks 135 (eventually gets 145).
57:34 – Tim hits a 275 jerk at the end setting the record for the days so far.
16-Jul-2010 14:00-15:00
0:00 – Interview with Tim and the team after Tim set a record on the jerk.
17-Jul-2010 11:00-12:00
3:15 – 3rd workout explained. Sean, Sid, Elizabeth, Karen.
6:00 – Look for the girls in the neon yellow-green sports bras. That is us.
9:10 – Sean is on the 3rd box from the left in our lane in the board shorts. 
10:40 – Elizabeth in the glowing sports bra smokes those 24" box jumps.
Sid was the real hero in this workout even though his heroics did not get coverage. He was the only team member we never had to wait for at any station and he cranked through his last set of lunges at lightening speed landing us just under the 25:00 time limit.
TODAY'S WORKOUT: Day 16
"Grace"
For time:
30 Clean and Jerks at 65#
My time: 2:14