Toronto
THURSDAY, MAY 3, 2012
My aunts Jeannie and Sue picked Todd and I up at the airport in Buffalo around 6:00pm. My cousin Anne and her husband Mark would not arrive for another three hours so we took Jesse (the dog) for a walk.
The houses and landscapes near Buffalo State College were gorgeous! We ate dinner on the patio at J.P. Bullfeathers where Jesse received attention from everyone who passed by.
She wasn't feeling well so I am sure she enjoyed the extra love. The patio was a great place to people watch and the weather was pleasant. I enjoyed a flight of soups (taco, tortellini, and French onion) and crab cakes. Sue and Todd had burgers and Jeannie had a turkey melt. Afterward we picked up Anne and Mark, stopped (now in the pouring rain) to pick up a quick bite for them at Tim Horton's, and headed across the Canadian border to my aunt's house in Oakville. Bedtime: Just after midnight.
FRIDAY, MAY 4, 2012
As usual I woke up at 6:00 but made myself lay in bed until 7:00. Then I finally had my first good look at the house. Gorgeous home with very large rooms and a huge kitchen with a big area for entertaining. Even more impressive was the beautiful landscaping. They had put a lot of work into cleaning it up.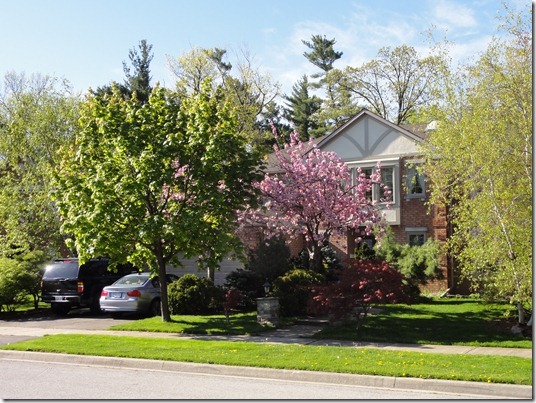 There were several bird feeders hanging from the trees in the backyard attracting birds of all kinds including gold finches, blue jays, and even a wood pecker. Black and grey squirrels worked like little vacuums to pick up seeds that dropped to the ground. It was absolutely lovely sitting at the kitchen table enjoying the scenery. After a breakfast of eggs, bagels, and fruit we headed through the forest behind the house toward the Monastery Bakery named so because of an old Abbey that used to be in the area.
Words can't do justice to the smells coming from the room full of fresh breads and treats in the back. We picked up ingredients to make pizzas for dinner later as well as some desserts from the dessert counter…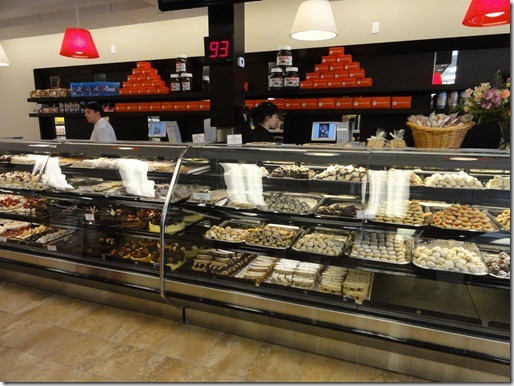 …before walking back home through their adorable neighborhood. Back at the house we piled in the car and headed for Toronto. First stop was the CN Tower.
We rode up the elevator 1,135 feet to the main deck…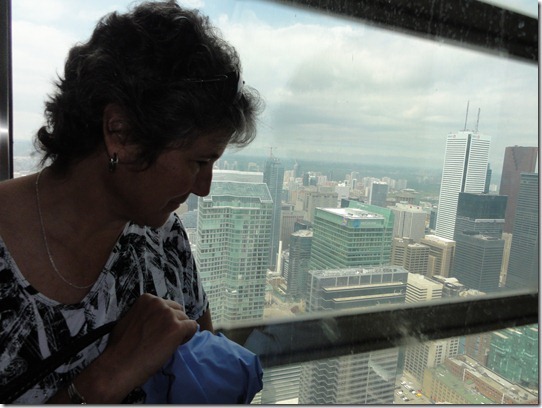 …enjoyed the views on every side…stood on the glass floor high above looking down on the city…
…and headed back down the elevator. Next stop was an old railway station…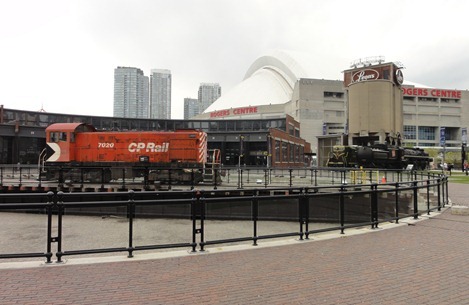 …now the home of the Steam Whistle Brewing Company…
…where we stopped to enjoy a free beer…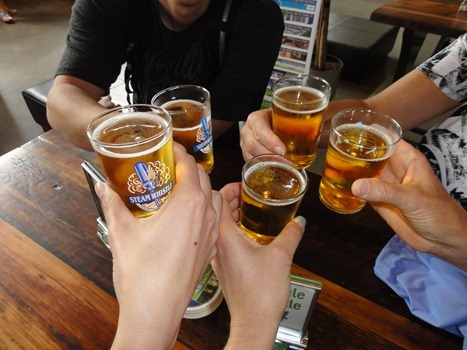 After enjoying our beer we headed towards the water for a boat tour of Toronto Islands.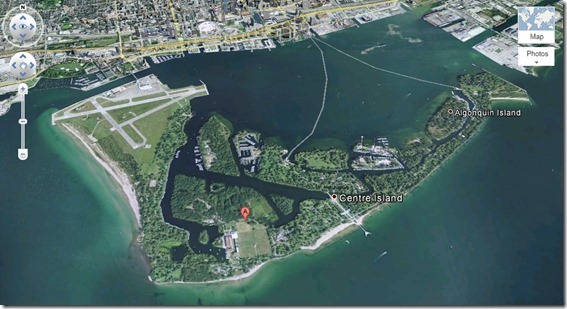 The views of the city and the tower were spectacular.

And we had fun on our boat…
Last stop in Toronto to a bar called Allen's in an area Jeannie lived in for awhile. We sat on the back patio and ordered a few appetizers (calamari, bruschetta, sweet potato fries, and what was the 4th?) and a little beer.
Just above us up in the tree there was a little free entertainment…
And then we headed back to the house in Oakville to make our dinner. The boys tried to scare away the squirrels with the sling shot in the backyard while the ladies made 3 different pizzas…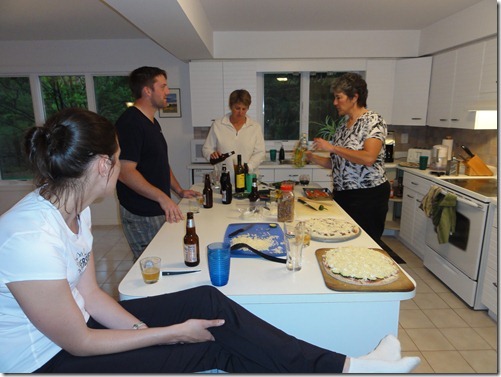 My great aunt Terese's simple pizza, my grandmother's sausage and cheese, and a recipe I found awhile back with prociutto, a lot of cheese, and a little zucchini which sounds weird but is soooo good.
We also had a little beer tasting of a bunch of offerings from Molson Coors (my aunt works there) including a new product they have just released in Canada called Coors Light Iced T. Mmmm.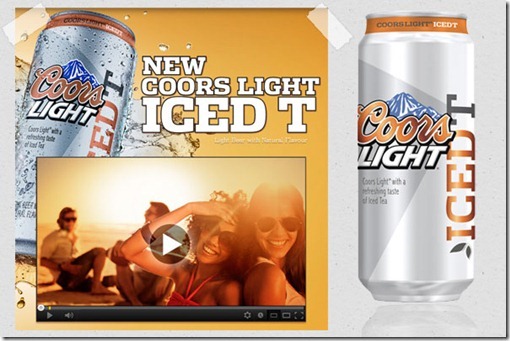 After dinner we played a Bridge-like card game called Nil until just after midnight.
SATURDAY, MAY 5, 2012
Saturday morning we ate leftovers from the bakery and then headed out for a long walk…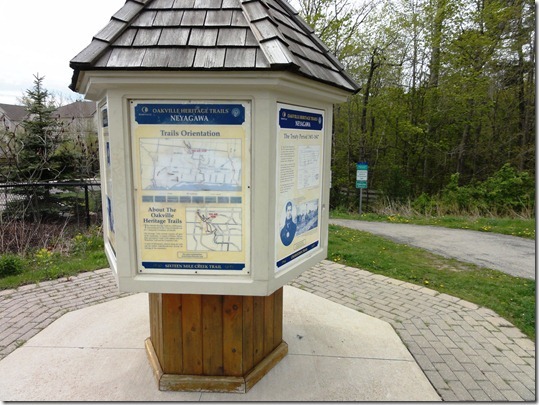 …down to a winding river, around a valley and back up.
Jesse was pretty tired by the time we got back to the car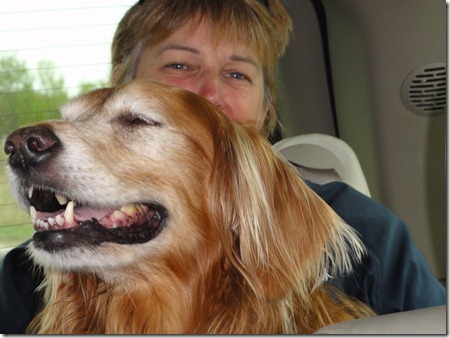 On the way home we stopped at the grocery store for everything we needed for having a barbecue back at home. Jeannie made very good ribs with homemade sauce and a couple different vegetable sides. Anne made an amazing buffalo chicken dip as an appetizer and a strawberry dinner salad. I made seven layer dip (the closest thing we got to Mexican food for this Cinco de Mayo) and a key lime pie for dessert. The boys set up hillbilly horseshoes in the backyard and then resumed terrorizing the squirrels. Anne and I picked up my great Aunt Terese and brought her over. Her brother-in-law's wife Judy and Judy's grand kids joined us for a delicious dinner. Afterward we played one last round of Nil and still didn't get to bed before midnight.

SUNDAY MAY 6, 2012
Todd and I woke up early and made our way through the trees back to the bakery. Back at the house we visited, packed up, and ate leftovers for lunch before heading to Niagara Falls.
We took the Journey Behind the Falls…
…and rode the Maid of the Mist
We walked away from the falls up a street called Clifton Hill…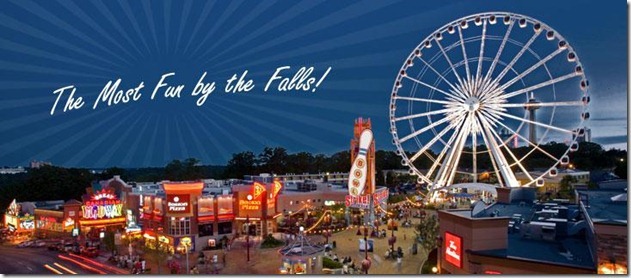 And then back over near the car for chips and guacamole and a beer at Margaritaville. We saw a short IMAX film (I'll tell you about that later) and then headed for our next fun stop at the border where we were randomly selected to sit in a lobby for a half hour while officials did a full search of our vehicle and interrogated Sue for carrying too much information about herself in the car.
After that fun detour we hit the Anchor Bar in Buffalo for chicken wings and a beer.
After dinner we drove by the house where by Granddad and Grandma lived for awhile and snapped a few photos before realizing the current owners were in the window watching us. The woman was not too pleased until my aunt explained that her mother used to live there. We were invited to come in but declined as it was we were pretty tired and hadn't intended to disturb them.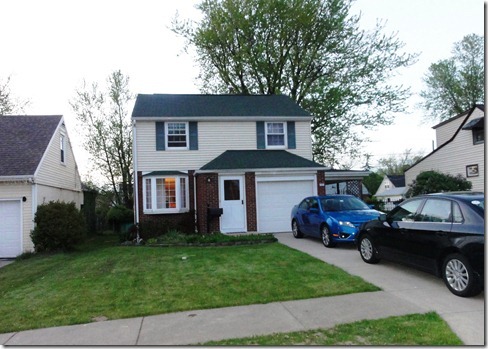 We were finally dropped off to share a suite with Anne and Mark to get a good night sleep before our return flight home. Somehow we ended up watching a few episodes of Duck Dynasty before finally retiring.

Thanks Jeannie and Sue! What a great weekend!!!