Yesterday was surreal. After my final hike I got my nails done at a place that had been totally remodeled and fitted with a row of new massage chairs. I fell asleep. That was the best massage chair I have ever sat in. Oh man, where can I get one…
By noon I was at the studio where I met an adorable woman named Amanda who was assigned to spray tan me. Spray tanning was a very strange experience. I stood naked in a pop up tent and she spray painted me like a car. I was not sure I wanted this done at all since it is so out of style to be really dark these days. Super dark tans no longer make people think of relaxing on the beach but of skin cancer. However I was very pleased with the result, just a shade or two past my normal color and not a hint of orange. She did a fantastic job. (No, that's not me in the picture! That is a model.)
Next was make up and hair done by the lovely and talented Jen Murphy. Such a professional! In a very short time she transformed me from Plain Jane with no make up and wild hair to 'Whoa!' I told Todd I would probably look like a 13 year old in dance recital with a bunch of make up on me. Either that or a hooker. Far from it! Jen was truly an artist and took really good care of me. This is Jen:
Finally there was the photos. Before yesterday, I could think of nothing more uncomfortable than putting on a bikini and high heels, standing in a cold room, and having someone bark orders and snap photos. I had dreaded this day since the beginning of the challenge.
Yet when the time came, Rob Hawthorne made it seem like a piece… of… cake – like something I had done a dozen times before. He had to provide a lot of direction but did not let on for one second that it was anything but fun for him. I felt totally relaxed. In the middle of the photo shoot, a group of business men walked in and Rob ran over to show them my before photos. Their reaction to how far I had come boosted my confidence even more. One of them said, "Ok, seriously. What are you trying to sell me?" like he almost couldn't believe it. That got a BIG smile from me.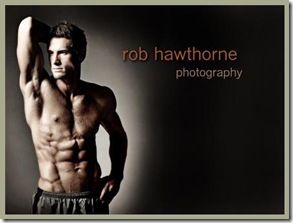 Rob made it so much fun that I could have easily kept changing outfits and taking pictures except for one thing. After five hours I realized I was REALLY hungry and I could FINALLY fall off the wagon for a day or two and eat whatever I want! Last night it was Chinese Food. Fried crab cheese wontons, egg rolls, sesame chicken, and vegetable fried rice with ice cream for dessert. I almost cried I was so happy not to be eating steamed beef and vegetables for once. GREAT dinner!
Oh, about the photos. Challenge rules state that I cannot post them until I find out for sure whether or not I am in the running. Once you submit them, they own them. I am going to call on Monday though. I might be able to post one I took in a sports bra and shorts since I am not submitting those. We'll see. Even if they say yes I still have to build up the courage to actually post it. That is pretty… I don't know… PUBLIC. Eek!  Either way, on Monday I will let you guys know how the competition works from here on out.
By the way, if you need a spray tan, make up, hair, or pictures an event I highly recommend this wonderful group of talented and experienced people:
Photography:   Rob Hawthorne – http://www.robhawthorne.com/
Hair and Make Up:   Jen Murphy – http://www.thejenmurphy.com/
Spray Tanning OR Personal Training: Amanda Berthod – amanda.berthod@gmail.com