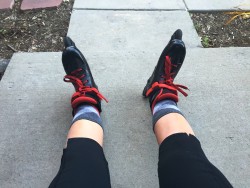 ROLLERBLADING: In Luxembourg my roller blades were transportation to and from work. That was a long time ago though. Now it is much more like a workout. A pretty awkward workout at first. Especially crossing Baseline. Yikes! I hope I don't have to go down a hill! But just like riding a bike I was cruising down the path listening to reggae in no time. The only thing missing was a giant wad of Bubblicious.
One minor concern though. A mountain lion mauled a 50-60 pound bulldog not far from here about four days ago. This path goes through tall grass and wooded areas with a creek and a bridge. In the back of my mind was an interview I had watched of a guy who was pulled off his bike from behind by a mountain lion.
Luckily I forgot all about that when I did in fact find myself at the top of a steep curvy hill. Eeek!! How do you slow down on these things again? -Oh yeah. You don't. I may or may not have taken several steps in the grass to slow myself down before realizing that my skates still had heel brakes on them. (I used them without brakes for roller hockey long ago).
Whew! Made it home safely. No wildlife encounters other than being chased by a bunny. That was really fun.
STATS:
Starting weight: 148
Weight: 143
Competition weight: 138