I do have kitchen cabinets that stay organized all the time. I never lose a tupperware lid. Canned foods and spices are always in order and my refrigerator is always clean. But there is another side of the kitchen more indicative of my former self.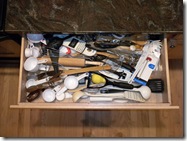 To the left is the giant utensil drawer. You cannot tell from the photo but it is 3 feet wide and almost 2 feet deep. It is packed front to back. I really have no idea what all is in there. I probably have some great utensils buried in it but I am not sure.
On the right is another junk drawer in which I found an oven mitt, a cat brush, deck of cards, a network cable, plant food, scotch tape, and a straw from Sonic. I can barely find two items in here that should be in the same room much less the same drawer. I love to cook and I love my kitchen. If I could get this half to work like the other half I would be in kitchen heaven. So I guess that's the goal.