7. Nancy Stutesman – My Mother
Nancy Stutesman never climbed the Seven Summits or  cured the blind. She did not dedicate her life to volunteer work nor save lives in a natural disaster. What she did do was work full time and attend school full time while raising two tiny girls to make sure they were always provided for. Imagine the self discipline that required. My first year at UNC in Greeley, CO, I was a red shirt for the volleyball team. This allowed me to be treated as a "full time student" with only 3 classes and I still could not bring myself to go to every class. But later in life it was the discipline, dedication, honesty, and integrity of my mother and her whole family that inspired me to want to work harder and be a better person.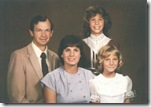 Growing up I always thought of my sister as more like my mom and of myself like my dad. My dad inspires me to have as much fun as possible – all the time. But in many ways I am just like my mom too. At times she was very organized and others a disaster, just like me. My love for travelling comes from her. We went on vacation nearly every year of my life. She loved to take charge and organize get-togethers just like I do. We even ended up having the same career.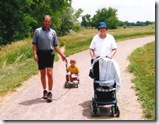 She also showed me the importance of family. She loved us relentlessly. She never let us leave without a hug or let us go to bed mad. My favorite pictures of her are with my sister's two boys. I am certain they brought her more joy than anything else in her whole life. And the memories of everything she was and everything she stood for will continue to bring me joy in mine.
This Thursday, Feb 18, 2010, would have been her 60th birthday. Happy Birthday, Mom.
On June 6, 2003, after a few weeks of suffering from extreme exhaustion, my mother was diagnosed with leukemia. I had tickets to Comedy Works and my first thought when I heard the news was that I might as well still go out because my mom could not possibly have cancer and everything would work out fine like it always does. Luckily my sister was there to help me with a second thought which was to leave work immediately and meet them at the hospital.

Under the circumstances, her prognosis was good. Common leukemia is curable and we had caught it early. Her response to chemo was as good as they'd ever seen. One Saturday in August I returned from a 3 week vacation. She had just undergone chemo and had no energy but still insisted on being at the airport at 10:00pm to pick me up. I will never forget her running towards me in the airport with her mask on, so excited to see me she could not even stand to wait in the car.
Two days later, I went to play volleyball as I always did on Monday nights. After league a couple guys asked if I wanted to stay late and play doubles which was typical. A friend put me on the court with someone he introduced as Chris, my partner for the evening. We played until about midnight. Much later I found out Chris's name was not really Chris. It was Todd Ramirez.
On the way home that night I called my dad. Mom was in the hospital as we knew she would be after chemo. No need for alarm, I'd visit her after work the next day as planned. I drove right by the hospital on my way home. Tuesday at work I was walking away from my desk and heard the phone ring. I hesitated. Should I call back later or just answer it? I answered it. It was my dad.
"Hey Dad! How's it going?"
"Not very well. Your mother has stopped breathing."
A friend from work had to tell me later what happened next. In the middle of my cubicle I had cried out "Are you sure? Are you sure?" and went running out of the building. She had stopped me to see if I was okay and all I said was "I don't know".
I drove the same stretch of road I had driven just two months prior, wondering at the time what it would be like if leukemia ever got the best of her. A nightmare coming true. That night about 10 members of her family stayed by her side in the hospital on the longest night of my life hoping for a miracle that never came. The previous day she had contracted sepsis and could not fight it off because of the chemo. Tuesday morning she had turned to my dad and said "I had a really bad night" and then slipped into a coma. After 45 minutes doctors were able restart her heart and breathing but she never regained consciousness. Her official death occurred the next morning Wednesday August 6, 2003 exactly 2 months after she had been diagnosed.
She was an amazing person who inspires me every day.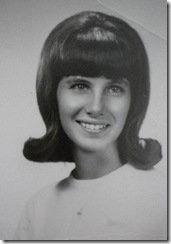 Nancy Elizabeth Stutesman (1950-2003)