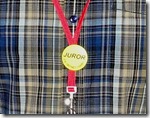 In unrelated news, Todd just finished four days of jury duty. The case was about an inmate, formerly a carpenter, who was hired to work in the prison workshop. He was adjusting some wood on an old table saw and accidentally bumped a toggle switch that turned the saw on and cut a few fingers off. So he was suing the company that owned the prison for liability due to an unsafe work environment. He stated that it was the job of the supervisors to inspect the equipment for safely issues. Just given that very limited information, what do you think the outcome was?
Here are the questions they had to answer before delivering a verdict:
1. Did the plaintiff (the inmate) suffer from injuries, damages, or losses. (Easy enough, he just showed them his hand. I guess some of the jurors said they couldn't sleep after seeing it).
2. Did the defendant (the prison) have knowledge, or should they have had knowledge about the danger on the property?
3. Did the defendant (the prison) use reasonable care in preventing the danger on the property?
4. Did the defendant's failure to use reasonable care cause the inmates injuries?
[This reminds me of the homework I had in my Business Law class in college. Read a case, answer questions, deliver our verdict, and find out the next day what the actual outcome was. So… guess.]