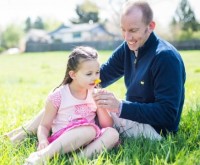 Today I got the news. My teammate and friend just succumbed to cancer. We played volleyball together 2-3 time a week for two or three years. But I had not seen him since my shoulder surgery took me out of the game a few years ago and we had barely kept contact on Facebook.
In the weeks before he died his wife reached out to those who knew him for a few words on where he fit into our lives. At the time it was something we were doing for him, for her, and for their daughter. But now I am so grateful that I was given the opportunity to let him know he was important to me while he was still here. It his hard to imagine that huge grin and boisterous laugh not being out there in the world anymore. Alex you will be missed.
I started this site in 2010 when I decided to sign up for the Body For Life Challenge which eventually lead me to compete in CrossFit. During all the time I was writing I never knew the extent to which my teammate Alex King was a major contributor to the system I post with. WordPress is used by almost 25% of the top 10 million websites in the world and my volleyball buddy's name is apparently all over its code. So what better way to pay a tribute than to start using it again?
From time to time I used to write a page about someone who has inspired me. So Alex King, today that person is you. You have inspired me to pick up where I left off with this thing and see where it takes me.