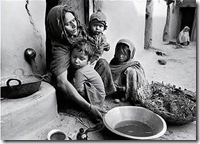 A couple days ago I went to Whole Foods and the lady at the checkout counter asked if I wanted to spend five dollars to feed a family of four during the holidays. For some reason I automatically said: No, thank you. So to be clear… I said yes to a seven dollar salad and a three dollar bar of dark chocolate for myself and no to feeding an entire family of four for a measly five bucks.
What was I thinking? It kept bugging me. The same night they ran the story on the news about how the Denver Rescue Mission usually has thousands of turkeys by now and at that point had zero. I think there will be a lot of people hurting over these next couple months. It made me realize I have never spent one moment of my life wondering if I would have money for food.
So starting today I have decided that every time I hit Whole Foods over the next month or so I am going to say yes to that question. Yeah it could add up but so does shopping at Whole Foods in general. Maybe it will keep me away from the chocolate.