Last night we saw Sting at Red Rocks performing with the Royal Philharmonic Orchestra. Just Sting or just the orchestra would have been amazing but together, at Red Rocks, spectacular. When I saw Sting with my aunt as an 11 year old I remember a guy leaning over as he walked by and saying 'Aren't you a little young for this?' The funny thing is that 20 years later I was still among the youngest in the audience. The whole crowd grew up. Todd took this picture from our seats in row 26. Unbelievable.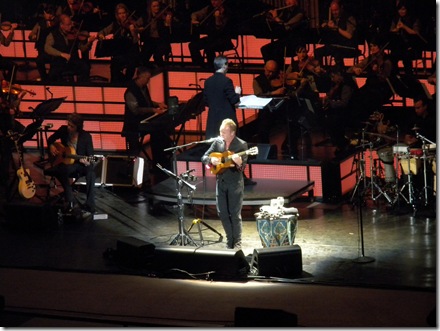 For some reason I was never a big fan of the original version of Roxanne but his newer versions definitely grew on me. Epic.
He has performed many versions of 'Fragil'e including one in 2001 that was dedicated to the victims of 9/11. He lived in New York awhile and lost a close friend in the tragedy. He also did a famous version that appeared in an Imax film about the depletion of the ocean. I was surprised last night that he never mentioned the oil spills but I am sure it was on people's minds.