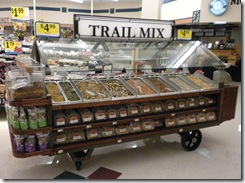 The grocery store by my house just put in a trail mix bar. Great idea. It has everything from nuts and seeds to raisins and dried cranberries, M&Ms and mini chocolate chips to 8 different kinds of granola. It even has a bin for raw unsweetened coconut. Mmmm. For my first customized batch I pretty much added a little of all of the above. It looks like a mess but tastes fantastic.
It occurred to me that I can make my own trail mix bar much the same as when I turned my refrigerator into a salad bar awhile back. I can buy stuff separately and put it in storage containers and then throw together whatever I want. The upfront cost will be greater but in the long run I can certainly do better than six bucks for a 1/4 lb or whatever it is. I will probably start with a couple items like this:
Roasted Almonds
Raw Unsweetened Coconut
Raisins – I am going to try to make these in my dehydrator.
Apples – And other fruit dried in my dehydrator.
Extra dark chocolate
Jelly Bellies, Gummy Bears, Skittles, Runts… heh heh.
But seriously, feel free to suggest any other ideas you might have.