I love the holidays. So busy, so fun, still so relaxing. Saturday we saw the Christmas lights at the zoo. Todd's nephew Gus and his new friend Celeste rode around in a Radio Flyer. Gus sang the first line of Jingle Bells over and over until strangers started to join in.
Sunday I went shopping and had lunch at BJ's on Pearl Street with Todd's sister, mom, and aunt. Then last night we took my cousin Andrea to see Tron in 3D. Great special effects! Loved those lightcycles!
On the way home we pulled up to the gate of a house on Baseline Road about a mile from where I live. It belongs to the owner of a tree farm.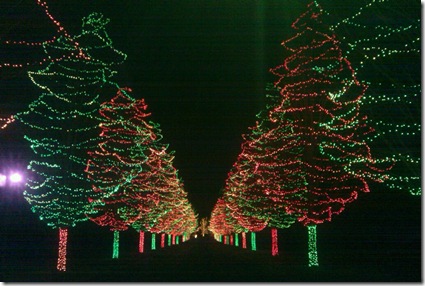 You would have to see it in person. It must have taken a huge team to get all those lights on all those huge trees and that's just the quarter mile driveway. You can't drive back to the house but you can catch glimpses of it from the road and it must be spectacular.