CrossFit Regionals: Day One
Friday April 30, 2010
Our team's minimum goal for the day was to be in the top 16 of 30. The top 16 teams move on to compete Sunday for 8 spots at the national competition in California.
---
EVENT 1: SUICIDE RELAY ON SOCCER FIELD
None of us consider ourselves exceptional sprinters so we worried this relay might hurt our chances. We wanted at least 16th. The ability to endure the suffering at a consistent pace plus Sid's amazing finish landed us in 10th!
Rosanne:
Sid:
---
EVENT 2: SNATCH MAX IN 25 MINUTES

The girls did their duty putting up a solid 105 pounds a piece. Then Steve scored a personal record of 175! Tim easily did 205. After a couple valiant attempts at a personal record of 220 time was running out! He removed 5 pounds and tried again. No luck! He was about to be stuck at 205! He quickly stepped back up on the platform and with just a few seconds on the clock threw 215 over his head like his life depended on it. His last second save moved us ahead 3 spots in this event to 11th.
Warning!!!: If these videos stop after 1 second, use the button that appears when you hover instead of the one in the center. More info: http://dgrin.com/showthread.php?p=1379339
   Lucinda:
   Rosanne:
    
   Steve:
   Tim:
---
EVENT 3: THE TRIPLET
Any team configuration for best time.
50 muscle ups, 200 overhead squats, 3000 meters on the rower.
We picked a great strategy and every person executed brilliantly. The boys knocked out muscle ups in under 5 minutes and then relieved Lucinda on the rower who had kept up a great pace for 1000 meters. Rosanne handled the first 75 overhead squats by herself! Unheard of! Fresh off the rower, Lucinda came to her rescue and the girls finished out squats in sets of 10 while the boys took turns ripping out 500 meters on the rower. They finished just seconds after the girls. Incredible performance. Could not have gone better.
In this video Sid and Steve are doing pull ups in the upper left. Rosanne is doing the squats. Lucinda is in front on the rower:
Our Very Ambitious Goal:  Under 12 minutes
Actual Time:  11:57
Event Placement: 7th
Overall Placement Going In To Sunday: 8th!
---

THE MASTERS
Meet Greg Parr, our resident stud in the Masters Division. He is almost 60. Here are a few videos of Greg kicking butt yesterday. He is currently in 8th place in his division.
   Greg doing 165 pound thruster:
   Greg knocking out kipping pull-ups like a college athlete:
---
 
OTHER PHOTOS
Layout of the gym with the director going over the rules:
Entrance to warm up area:
The Flatirons CrossFit crew cheering for Greg: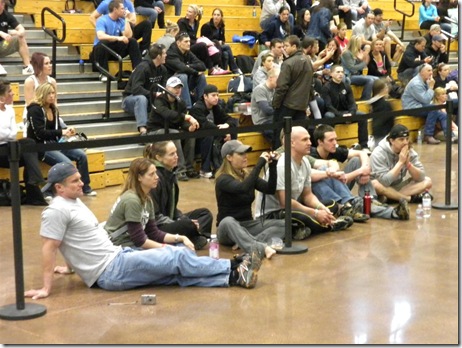 To see all the results:
Team and Individual: http://scores2010.crossfit.com/scoring/north-central/
Masters: http://scores2010.crossfit.com/scoring/masters/
All other photos and video I took are posted here:
http://toddnkaren.smugmug.com/Sports/CrossFit
.