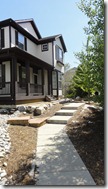 One month life makeover:
Part 1: 24 Day diet challenge
Part 2: Better use of free time starting with a week of no TV
Part 3: Getting the landscaping done at our house
When it was time to shop for a house, I imagined myself living in a white house with dark trim and a brick red roof. The layout would be open with high ceilings and lots of windows. I would have a patio area that was like a little mountain oasis with a tiny pond and a waterfall. But I never bothered to imagine what the rest of the landscaping would look like. Almost 8 years in my house and everything outside the patio area looks like nobody lives there. Dirt, mulch, a few rocks, a few trees. That's it.
It is hard to separate the quality of your life from the environment you live in. So part 3 of this month's makeover is a small step towards improving my immediate surroundings. We met with a landscape design lady today. I can't wait to fix this mess!