Today I want to thank everybody for the overwhelming support. Your words of encouragement have meant a lot to me. I cannot believe January has already passed! I definitely need to kick it up a notch in February with my fitness goals:
Pull-ups (dead hang)
Starting: 2
Current: 3 
Best ever: 8
Goal: 10

Push-ups (military)
Starting: 8
Current: 13
Best ever: 15
Goal: 25

Run 5k (at altitude)*
Starting: 8:50/mile
Current: 8:30/mile
Best ever: 7:46/mile
Goal: 7:30/mile 

January Totals
# of pull-ups: 275 ** 
# of push-ups: 475 ***
# of sit-ups: 830
# of miles run: 18
# of total lbs lifted at CrossFit: 10500

This blog had 1299 visitors in January. Thank you guys!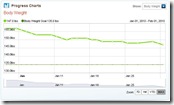 WEEKLY WEIGH-IN:
Last week: 148
This week: 147
Goal: 137
* I say 'at altitude' since I ran 7:36/m by the beach in CA – way less than my time here.
** The goal is dead hang but workouts include assisted, negative, and kipping pull-ups.
*** I did girl push-ups the first two weeks.