Days left to CrossFit Games: 12
We have been training hard. A week ago on Saturday the team went to Front Range CrossFit for a 2nd practice with other Colorado teams. 50 snatches (115# for girls), 50 hand stand push ups, 50 muscle ups on the rings, plus everyone had to row 2 x 500 meter sprints. I cannot do hand stand push ups or muscle ups so I did the only thing I could, the heavy lifting. Add a couple 500 meter sprints and my legs were so tired they went numb. After that we raced boys against girls flipping huge tractor tires through the parking lot. The girls did very well but the boys beat us even with their heavier tire. Ours was 300 and I think theirs was 500.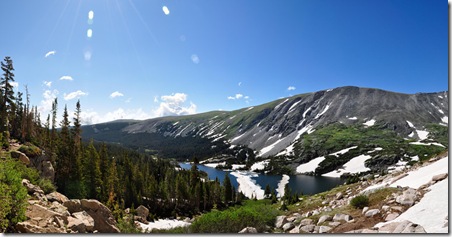 The next day I decided to go on a hike with Todd and my cousin Andrea. It started out as a nice leisurely 2 mile hike up to Lake Isabelle just 45 minutes from Boulder. But we decided to continue on to see if we could reach Pawnee Pass another 2.25 miles past the lake. Much of the trail was covered in snow and when we reached a field of boulders we lost the trail altogether. After 2 hours of bouldering up the side of the mountain and we got trapped beneath a steep and expansive snow field that we could not traverse. The snow gave out completely with each step and the giant boulders beneath were too unstable. We came within 100 meters of the top of the pass and had to turn back. Had we stayed on the trail it would have been an easy walk for us. Other than that it was a beautiful hike.  See more pics: Hike to Pawnee Pass.
Yesterday, inspired by our tire flipping at Front Range, our trusted leader came up with his own much worse workout for us. Teams of 4-5 had to flip 5 tires of sizes ranging from 150 lbs to 800 lbs across the parking lot and then stack them all on top of each other. Then we had to carry nine bags full of sand ranging from 50 lbs to 135 lbs the rest of the way around our very long building. All for time, of course. And naturally the people going to the Games, including myself, were on the team of only 4. It took 3 people just to flip the 800 lb tire. That thing was HEAVY and it was slow going. We definitely could have used another person. We tried to make up for it by carrying multiple sandbags at once. Time: 16:00.
As if that wasn't enough, after the workout a new-ish crossfitter fresh out of the Navy named Sean suggested that a 17 year old soccer player named Ben and I join him for a hike up Bear Peak. Ours was nothing like a leisurely hike. Over the course of the hike the three of us somehow developed an unspoken agreement to push through the 7 mile loop as fast as possible (except for our stop at the summit). We went up the steep side gaining 2400 feet of elevation in well under 2 hours and then ran down the back side as fast as we could manage. We missed a turn and ran further down the mountain than necessary so after all that we had to bushwhack up a steep slope to get back to our cars. Estimated time to complete the hike is 5-7 hours. Our time including our half hour summit and our accidental detour was 3 hrs 30 minutes. My legs have never been so close to complete failure. Totally worth it. What a gorgeous run! The wildflowers are beautiful and the view from the top is outstanding.